The Jean Skirts are making a comeback! This classic piece of denim wear is surprisingly adaptable.
Similar to the importance of a solid plaid shirt or thick knit in the winter, a reliable pair of jeans is essential in the autumn. If florals in the spring aren't considered revolutionary, then denim in the fall probably won't be either unless you decide to break with tradition. High-waisted mom cuts and carpenter-style dad pants are two examples of what you may add to your seasonal wardrobe this year; jean skirt outfits with a '90s vibe are also popular.
Interesting fact: while children of the '90s often take credit for popularizing the denim skirt, the style actually gained traction in the 1970s as a result of the hippy movement. Later, in the '90s and '00s, jean skirts experienced a rebirth, and now they have another comeback.
The versatility of the jean skirt makes it an ideal garment for anyone looking to refresh vintage looks, embrace the revival of grunge, or express their wacky inner self. Style it in one of our favorite ways that we've listed below.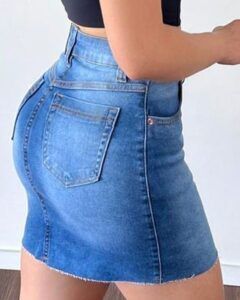 It's possible that fall hasn't reached your neck of the woods just yet (if ever). Plus, jean skirts aren't seasonal; you can rock them even in the heat of summer. Wear a blouse that makes a statement with your jean skirt. Consider a tank with flounced sleeves, a crop top with fringe accents, or a graphic tee with a striking pattern. Denim functions as a sort of neutral, drawing attention up to where it belongs—your top half.
At one point in the later 1990s and early 2000s, denim skirts were a symbol of extreme femininity. Pops of leather, though, should do the trick if you want to add a hint of toughness. Pay attention to the details, such as leather coats, boots, and even headbands and belts. If you want to take this elementary school staple in a more sophisticated direction, try wearing a Bridgerton-style corset with a pleated version of the garment.
While most people wear jean skirts for more informal occasions, they can also be dressed up. Choose a longer length like a maxi or midi and amp up your look with accessories. Accessories such as layered necklaces, dangling earrings, and stiletto heels are great examples. If you want to balance out the larger bottom, try a smoothing bodysuit or something more form-fitting for the top. Longer puff sleeves or an extra layer such as a shrug or micro cardigan are great choices for the colder months of autumn.
Denim on denim is an acquired taste, much like cuts and see-through socks. Make the all-black outfit more approachable by adding interesting details like contrasting washes and embellishments, or by pairing it with a graphic or plain T-shirt, bold boots, and bright accessories.